The Anda Spa is a modern wellness retreat in the historic Hotel Ivy in downtown Minneapolis. From andaspa.com: "The philosophy at Anda Spa, a Swedish word meaning 'spirit', is rooted in balance. Our modern wellness retreat focuses on a deeper sense of well-being, allowing you to reconnect your body, mind and spirit."

Helo was proud to work with the Anda Spa to create a sauna that seamlessly integrates with the total spa experience. The sauna includes comfortable 2-level benches for sitting or lying down—with a window to the spa area. A key design element of the sauna is a large piece of black Cambria quartz with white "heatwave"—installed on the back wall above the heater.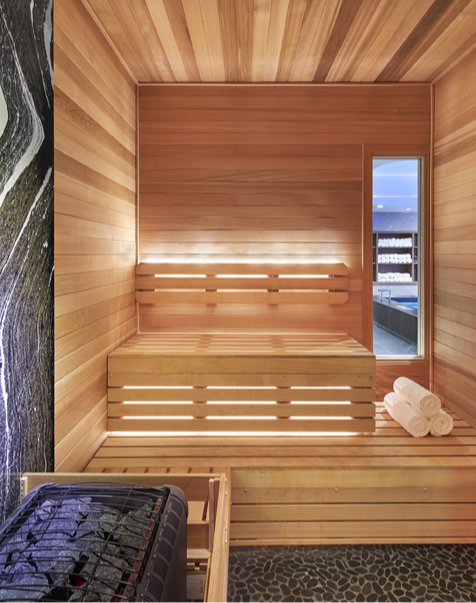 Wood Type: Western Red Cedar
Heater: Laava (14.4 kW)
Sauna Lighting: Backrest integral LED lighting system
Interior Design: Helo Supreme (includes 3-bar backrest, bench skirts)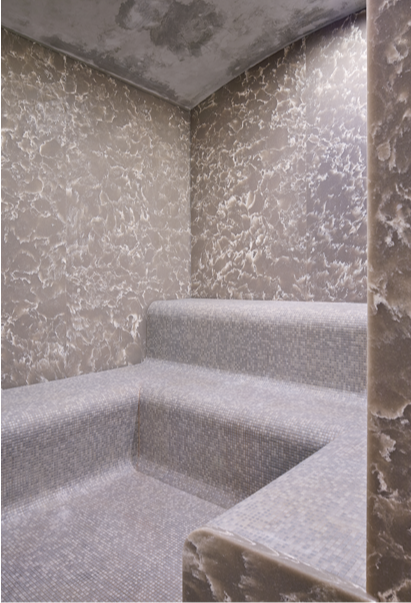 Bench Design: Two tiers of custom-tiled benches allowing guests to lie
down to relax and enjoy the soothing heat.
Amerec commercial AI boiler system for soothing steam throughout the steam room.




Outside the sauna area are heated lounge chairs and the spa pool.

Each spa experience gives guests the ability to reconnect body, mind and spirit.

Credits
Design: ESG Architects
Photography: Anthony Gilbert © Gaffer Photography